What is it?

This group is a self-managed community composed of animation and group facilitation enthusiasts who share their experience through training and support services.

This group, like The Atelier to which it is attached, works from a perspective of social justice where facilitation practices consider the power relations in organizations and work to transform them.


For us, animation and facilitation go far beyond meeting management. They are tools for creating and enriching connections between teams, groups and communities, whether online or in person.

Workshop for everyone – Fall 2022 :
TICKET PRICES
We offer a range of prices to be accessible to all incomes:
STUDENT
/ LOW INCOME
$20 + tx
NON-PROFIT / GRASSROOTS
$40 + tx
INSTITUTIONAL / PRIVATE SECTOR
$60 + tx
Recognizing that no work is free;

Wishing to offer a fair remunaration to our collaborators;




As a way to help us develop relevant tools and training workshops for our members who are dedicated to fight against inequalities.
However, we do not wish to exclude anyone for financial reasons. If your current income does not allow you to join our workshops, please contact us to discuss it.
CUSTOMIZED WORKSHOPS
You want to do a training for your group / your team?
Please fill out this form. This information will allow us to make the link with our facilitators: the more precise you are, the easier the communication will be!
Work in progress..
PENSER LES DÉFIS D'ACCESSIBILITÉ EN LIGNE.
PRATIQUES D'ANIMATION PARTICIPATIVE EN MODE VIRTUEL.
FACILITER L'INTELLIGENCE COLLECTIVE LORS DE RÉUNIONS EN LIGNE.
ORGANISER UNE ASSEMBLÉE GÉNÉRALE VIRTUELLE.
CONVERSATION COURAGEUSES ET ÉMOTIONS FORTES : SE PARLER POUR S'ENTENDRE MALGRÉ TOUT.
CRÉER DE LA COHÉSION AU SEIN D'UN GROUPE HÉTÉROGÈNE : BESOINS PSYCHOLOGIQUES DES PARTICIPANT.E.S ET LIENS DE CONFIANCE.
ANIMER LA PRISE DE DÉCISION PAR CONSENSUS OU CONSENTEMENT.
PRATIQUES D'ANIMATION PARTICIPATIVE PAR ZOOM.
FACILITER L'INTELLIGENCE COLLECTIVE LORS DES RÉUNIONS EN LIGNE.
DÉFIS D'ACCESSIBILITÉ LORS DES VIDÉOCONFÉRENCES.
CONDITIONS
Minimum of 13 participants
Maximum of 24 participants
TICKET PRICES
Grassroot groups, small collectives, etc.




Revenus below $100 000




Price : $50/person + tx
Non-profits, co-operatives, social enterprises, etc.




Revenus between $100 000 and $250 000


Price : $65/person

+ tx
Institutions, non-profits,

co-operatives, social enterprises

, etc.




Revenus above $250 000




Price : $95/person + tx
If our prices are beyond what your organization can afford, contact us. We have alternative solutions including service exchanges, matching with other groups, etc.
WORKSHOPS AND FACILITATORS
ALINA GUTIERREZ MEJIA
Passionate visual thinker and founder of Visual Versa
BIO
Alina is a creative thinker deeply passionate about positive change. She is the founder of Visual Versa, a company dedicated to improving communication and transforming complex ideas into visuals to create shared meaning and call for action. Currently, Alina is pursuing her Doctoral studies at Concordia University and her research explores the "impact of visual tools to facilitate change in communities and organizations."
WORKSHOPS
CREATIVITY AND VISUAL NOTES
We all have stories to tell, and visual notes can help students and professionals communicate their visual stories in a way that better resonates with people and can make a difference in their career. In this experiential session, participants will get to practice the basics of visual notes and will turn an idea into a visual story. I will describe and demonstrate the powers of visual thinking and give participants the space to try some hands-on exercises, ask questions and hopefully get over some creative blocks we all carry. The session will end with some examples of how visual notes can be used in our day to day, so they can change the way they study, the way they work and the way they tell their story.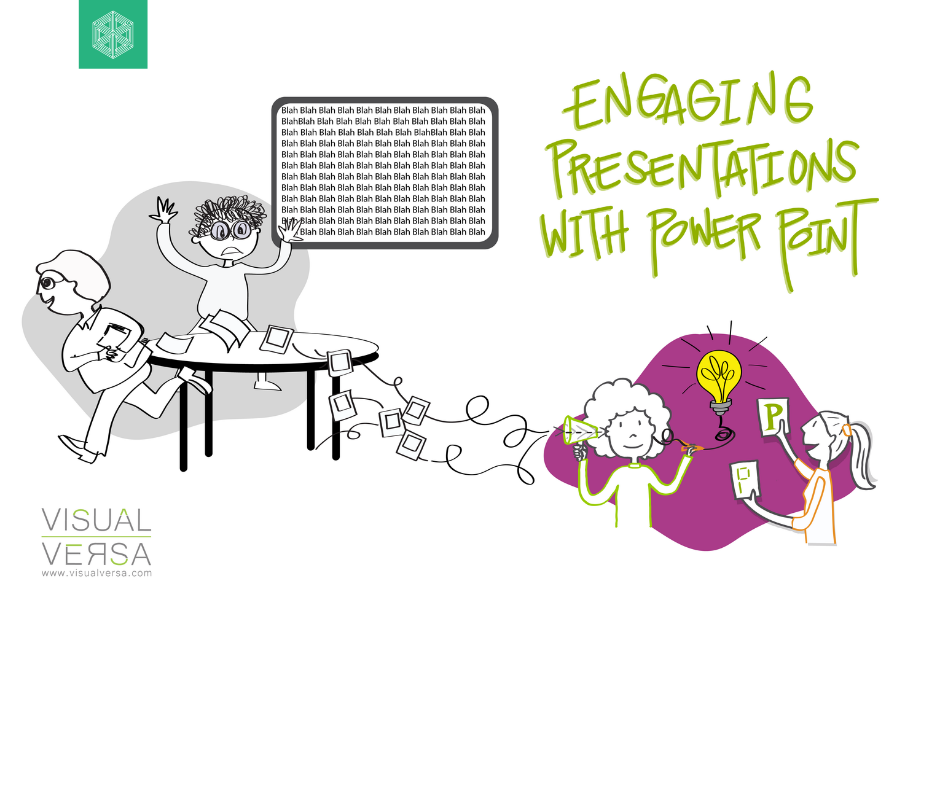 ENGAGING PRESENTATIONS WITH PPT
We can keep using the same tools but change the way we use them and how we present so our content becomes more engaging and we are able to keep participants attention for a longer period of time. In this session, we will explore different ways to co-create content during a presentation, how to use visuals and how to structure and present stories.
CONTACT INFORMATION :
info@visualversa.com
www.visualversa.com/fr/about