Update
As of March 1, 2022, it is no longer necessary to show proof of vaccination when coming to the Atelier. However, we ask that members and others who come to use the space keep an appropriate distance and when this is not possible, masks are required. It is also required when moving around the Atelier.
——————————————-
In compliance with Saint Paul University and Public Health Ontario, anyone who intends on coming to The Atelier must be fully vaccinated as of October 4th, 2021. Fully vaccinated means it has been 14 days or more since your final dose of a one-dose or two-dose vaccine series. For our friends that require accommodations for medical reasons in accordance with the Ontario Human Rights Code, please contact the Atelier directly.
Our Security Measures
The Atelier is committed to keeping our community safe in these uncertain times. Here's what we're doing to ensure the health and safety of our patrons:
When at the Atelier, we expect patrons to comply with basic safety measures such as maintaining physical distancing, practicing good hand-hygiene, and wearing a mask. Patrons can remove their masks when they are eating or when they're seated behind a plexiglass.

Upon entering the Atelier, we require you to complete a digital COVID-19 screening using the QR codes posted at both entrances. We record all responses and review them daily.

Members, students, tenants, and staff of the Atelier are required to submit proof of vaccination using our Vaccination Declaration Tool (see below).

After using a workstation or conference room, we require that patrons use the disinfectant spray and paper towels provided to them to sanitize the space and any equipment used.

Only one person is permitted in the kitchen at one time. At the moment, the dishes, kitchenware, and dishwasher are not available for public use.

If you have visited the Atelier within 14 days of either contracting COVID-19 or experiencing COVID-like symptoms, please contact the Atelier immediately.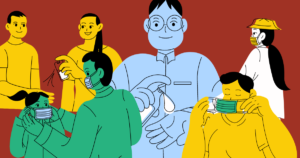 Our Services
The Atelier is pleased to announce that we will be accepting space and room reservations again! We are offering bookings for conference rooms, the lounge, coworking spaces and the Atelier at limited capacity in accordance with provincial guidelines. A maximum of 25 people at one time are permitted in the indoor space of the Atelier therefore reservations are on a first come, first serve basis. Please see "The Space" for more information.
There's nothing like being face to face!
In the new year, you can expect to experience in-person events at the Atelier! Sign up for our newsletter to find out what we have in store.
Vaccine Declaration
All members, students, tenants, and staff of the Atelier are required to submit proof of vaccination to the Atelier email address no later than Friday, December 31st, 2021. Please use "Proof of Vaccination [First name, Last name]" in the subject line.
We are only accepting proof of vaccination for vaccines approved by Health Canada: Pfizer, Moderna, and AstraZeneca. Don't know how to get proof of vaccination? Learn how here!
Non-members who wish to come to the Atelier will be asked for proof of vaccination upon arrival. We will also be introducing a proof of vaccination policy to the registration process of in-person events.
Resources
COVID-19 Community Reporting Tool
Provincial Vaccine Information Line at 1-888-999-6488 from 8 am to 8 pm
Ottawa Public Health at 613-580-6744 will be open from 8:30 am to 4 pm
The Ottawa Public Health COVID-19 Vaccine Booking line at 613-691-5505 will be open from 8:30 am to 4 pm
Multi-lingual COVID-19 Information Resources
211 Ontario can help you find financial and social support during COVID-19